Click the collage, or here,
to view the photo gallery.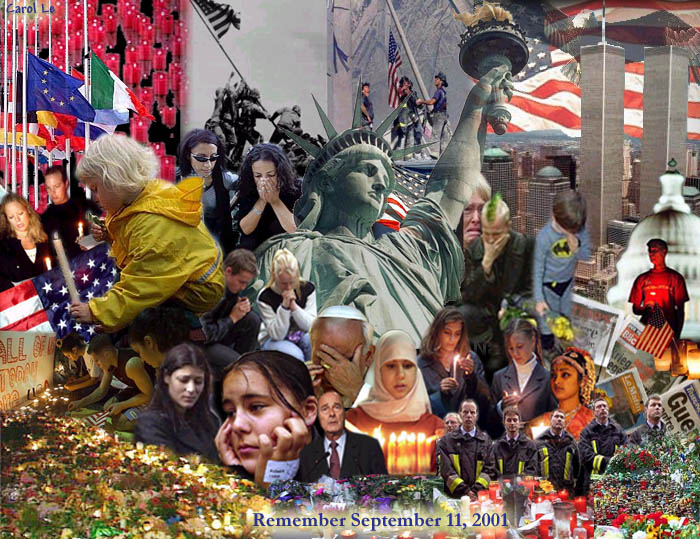 ---
Click the collage, or here,
to view the photo gallery.

---
On 14 September, 2001...
In London, several hundred people stood somberly outside the gates of Buckingham Palace as the U.S. national anthem was played at a special Changing of the Guard ceremony, followed by a two-minute silence.
---
International insurer Lloyd's of London rang a bell salvaged from British Frigate HMS Lutine in the 19th century that traditionally signals news of a missing ship, but has been rung to mark other tragedies, like the death of Princess Diana.
---
Finnish radio stations stopped broadcasting at noon, and more than 400 trams and buses in Helsinki stopped for one minute of silence.
---
Austria, church bells rang for three minutes, then fell quiet as people joined in three minutes of silence.
---
Putting aside months of angry words over Taiwan and a spy plane collision, Chinese President Jiang Zemin offered help with rescue efforts, telling Bush that Beijing wants to work with Washington and other governments to fight terrorism.
---
In Japan, professional baseball players and 14,000 fans observed a moment of silence before their game at Osaka Dome.
---
South Korea declared Friday as a national mourning day for victims, the first time it has made such a gesture for another country.
---
In Paris, the Republican Guard played "The Star-Spangled Banner" at the Elysee Palace after the three-minute silence.
---
In the Scottish town of Lockerbie, where 270 died when a plane was blown out of the sky in December 1988, the town hall bell rang out.
---
Germany called for five minutes of silence for the entire nation, and hundreds gathered in front of the U.S. Embassy in Berlin, amid a sea of flowers spread along the street leading to the building.
---